HO CHI MINH – CAI BE – CAN THO –HUE- HOI AN – DA NANG– HA NOI – NINH BINH – HA LONG – LAO CAI – SAPA

tour code : DO.020

Price: 0 $
Detail
Upon arrival in Ho Chi Minh City, you will be warmly greeted and transferred to your hotel.
Free at leisure or explore the city on your own.Overnight in Ho Chi Minh City.
Ho Chi Minh City (formerly known as Saigon) is vibrant and charming, filled with friendly people, an alluring culture, and all the conveniences of a modern city.
Have lunch at the restaurant. Then Visits:
The cathedral "Notre Dame" : One of the most typical monuments "deep France" in Saigon, no comparison with Notre Dame de Paris, this is a good big church constructed in 1877 1880, Romanesque Revival style, Its base is made of granite and its two square towers which overlook the 40m area. A statue of the Virgin Mary adorns the square.
Central the Post Office: One of the gems of French colonial architecture in Saigon. Looks like a railway station, built in 1886 is supported by a huge metal frame work of Gustave Eiffel. Its construction was completed in 1891, Gustave Eiffel, the colors of walls, space, freshness due to fans suspended above the windows make it a deliciously retro and nice place. Its architecture, with a roof topped by a glass roof, is reminiscent of the buildings of the Expo.
The Reunification Palace: This young monument is made history April 30, 1975, which marked the fall of Saigon, the end of South Vietnam and 30 years of relentless war. Built in 1966 on plans (for the front only) of Vietnamese architect Ngo Viet Thu, Grand Prix de Rome in 1955, the Reunification Palace was originally called the Palace of Independence and the presidential palace .
Over night in Ho Chi Minh City
The museum of war relics: The place that will make you hate the war, the most visited museum in Saigon. Since 2005, the museum undertook a number of modernization within the framework of Franco-Vietnamese, the museum-Nicephore Niepce in Chalon sur Saône supports him in his scientific thinking and participates in the creation of a modern library
Overnight in Ho Chi Minh.
(Lunch, Dinner)
Have breakfast at hotel,then visits:
Binh Tay Market: The biggest market in Cholon, a endoit bustling, popular full of odors (sometimes large) and colors. As in Ben Thanh market, everything in Binh Tay. Designed by French architect, Binh Tay has maintained its style with its roof shaped lotus flower, its belfry and clock. It is really worth the visit because it is less touristy than Ben Thanh and more colorful, more authentic.
Thien Hau Temple: One of the most frequented temples and visited Cholon. It is dedicated to the goddess Tien Hau protector of mariners. Founded in 1835 by Chinese native of Canton, it was the biggest shrine Chinese from southern Vietnam. Sterile women or those who have only daughters (in Vietnam, we prefer boys to girls) pray before the altar of Me Ba Sanh, goddess of fertility.
Ben Thanh Market: Open every day from 7am to 18H, after it becomes a night market all around and in side streets, the oldest and most vibrant in all markets. Built by the French in 1914, he served as a central market. A half-covered, it is a maze of streets with shops of all kinds. The dome of the central building, 28m in diameter, is surmounted by a clock. The stalls surprised by the variety of products. Thousand colors, smells miles ...
The Municipal Theatre: Opened in 1900, the building had a movable roof and could receive up to 800 people. The southern government was installed in the National Assembly. Since 1975 it has regained its original function.
City Hall: One of the most beautiful monuments of colonial Saigon, especially at night when illuminated. This huge building resembling a birthday cake yellow and white. Since its renovation, the facade of 66m, topped by a belfry and decorated by Ruffier, has become more elegant. Inside, beautiful crystal chandeliers give it an elegant atmosphere. Registered members of the People's Committee of Ho Chi Minh City.
Overnight at hotel in Saigon.
(Breakfast, Lunch, Dinner)
DAY 3: HO CHI MINH - CAI BE - VINH LONG - CAN THO
Breakfast at hotel. Take a coach trip to Cai Be.
Arrival Cai Be, Boats picking you up at Cai Be and then visit:
Cai Be floating market.
Handmade Candy Factory with many especially products: young rice cake, coconut candy, rice paper…
The Boats continue to An Binh Island , listen to "Đờn Ca tài Tử" The art of music and songs of southern Vietnam.
The Boats continue surfing on the canals.
Explore the village by riding bicycle.
After lunch at village local house, you will visitThe brick manufacturing, pottery and take you to the Vinh Long City.
The highway take you from Vinh Long to Can Tho, overnight in Can Tho.
(Breakfast, Lunch, Dinner)
DAY 4: CAN THO - HO CHI MINH - HUE
Have Breakfast at the hotel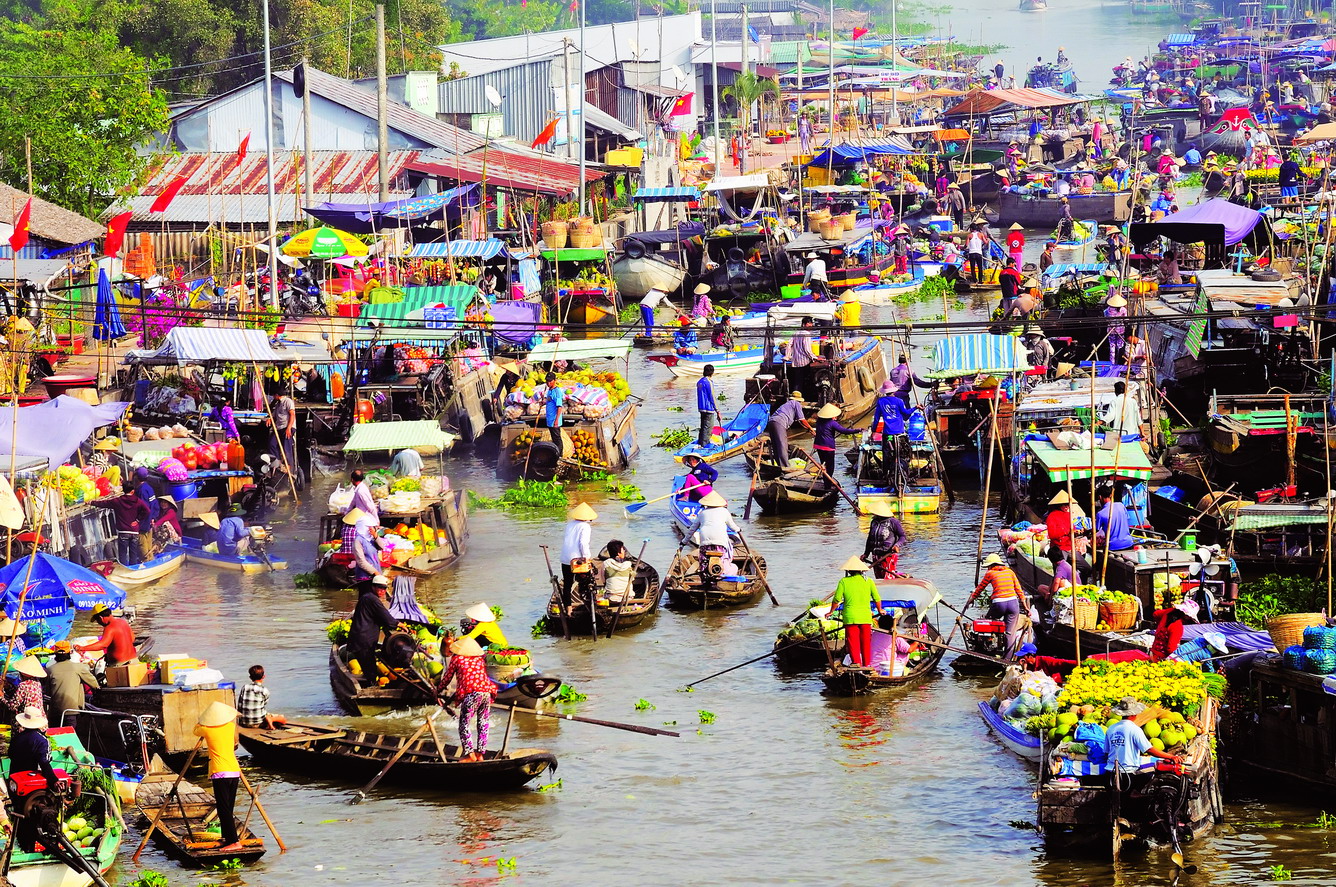 Then visit Cai Rang Floating market: This is the great floating market wholesalers in the Mekong Delta, a myriad of boats loaded with watermelons and melons, carrots, sweet potatoes, fruits, onions, etc.. .. Note that the poles are attached, after which fruit or vegetables for a sign.
On the way back to Ho Chi Minh City visiting Huynh Thuy Le Acient House:
The 119-year-old house owned by the Huynh Thuy family is famous for its unique architecture – a mixture of Southern Vietnamese, French and Chinese styles. The house witnessed the passionate love affair between Marguerite Duras - the well-known French writer who penned the famous novel L'Amant (The Lover) - and Huynh Thuy Le, a son of the Huynh Family.
Ho Chi Minh arrival and transfer to the Ho Chi Minh airport for the flight to Hue
Overnight in Da Nang city.
(Breakfast, Lunch, Dinner)
Breakfast at hotel
Huong River - The Perfume River: Cruise from 5 km to reachThe Pagoda of the Celestial Lady
Thien Mu Pagoda - The Pagoda of the Celestial Lady built in 1601, a symbol of the city. The promontory where it stands, one can observe a beautiful scenery and enjoy the magic of the imperial city.
The Citadel of Hue was built between 1805 and 1824 by Emperor Gia Long, for the dynasty he had founded. Its structure evokes the Forbidden City in Beijing. : A citadel containing the Imperial City, itself containing the forbidden city. The citadel is square and fortified by a wall of 6.60 m high of 21m thick, reinforced with a ditch.
The Tomb of Tu Duc: Built on two axes, on the first, the park, the palaces, temples, buildings and recreation, on the other, the tomb itself. It gives it a messier, more romantique.Le park is dotted with beautiful trees: frangipani, jackfruit, longan, litchi, etc.. around the artificial lake covered with waterlilies.
Overnight at hotel in Hue.
(Breakfast, Lunch, Dinner)
Breakfast at hotel and then visits:
The Tomb of Khai Dinh: Very different from other tombs, Khai Dinh is one of the last to be built. He deliberately breaks with the style of others. Here, no one but a landscaped park built in stages over a hill. The concrete was used largemant. Steeped in European culture, the penultimate emperor readily mixes Asian influences. Which resulted in its way, a masterpiece of art Kistch
The village of conical hat making
After lunch, on the way come to Hoi An , visits Marble Mountains (Five elements mountains) is a cluster of five marble and limestone hills located in Ngu Hanh Son ward, south of Da Nang city in Vietnam. The five 'mountains' are named after the five elements; Kim (metal), Thuy (water), Moc (wood), Hoa (fire) and Tho (earth).
(Breakfast, Lunch, Dinner)
Breakfast at hotel
The Silk workshop you will discover the path of the manufactures of silk and have the option of ordering a bespoke suit that will be delivered within 24 hours.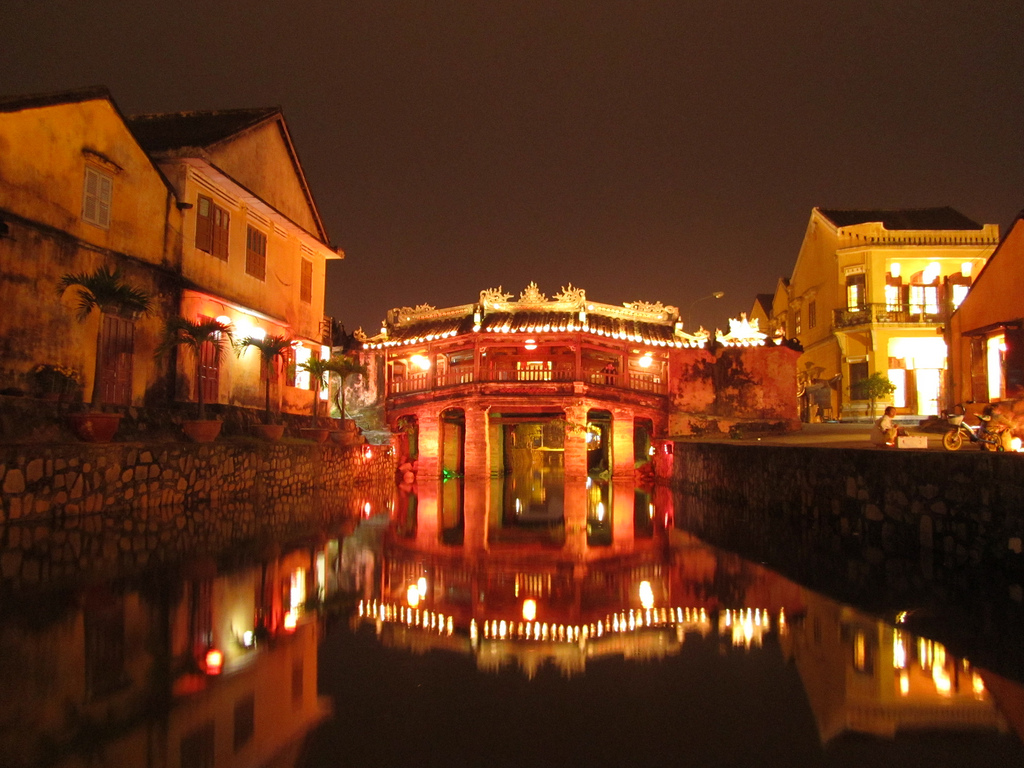 Stroll the old town of Hoi An: visit the museum and cultural history of Hoi An, Quan Cong Temple, temple and headquarters of Phuc Kien, a spectacle of dances and songs Cham about twenty minutes east offered, also visit the Japanese bridge which was built in 1593 and Phung Hung old house ...
Free time for relax and overnight in Hoi An Hoi An.
(Breakfast, Lunch, Dinner)
Have breakfast at hotel.
Then we have a bicycle ride to Tra Que Village.You will be welcomed with a special local drink - "É" water or local tea. Next get ready to dress in farming clothes, we then take a short walk with our host to learn about the history, culture and people of Tra Que and how they cultivate.
Have diner and over night in Hoi An.
(Breakfast, Lunch, Dinner)
Have breakfast at hotel,then transfer to Da Nang, Visits:
Cham Museum: The museum is housed in a beautiful colonial building open to the four winds, adorned with motifs inspired by the architecture Cham. Built from 1915 to 1919 by the French School of Far East is the oldest museum Henri Parmentier. It houses the finest collection of Cham art in the world. His works from the four corners of the former empire, consist mainly of sandstone carvings dating from the fifth to the fifteenth century
Linh Ung Pagoda located 10 km northwest of Da Nang, well worth a visit. It is built between heaven and earth rests on the Son Tra peninsula. It is known for its original architecture and unknown. Linh Ung according to literature meaning is "Wish miraculously fulfilled."
Transfer to the Da Nang Airport for flight to Ha Noi
Arrival Ha Noi, Free time for relax, over night in Ha Noi.
(Breakfast, Lunch, Dinner)
DAY 10: HA NOI - NINH BINH
Have breakfast at hotel, tranfer to Ninh Binh and then visits:
The Temple of Dinh Tien Hang: This temple was built on the foundations of the old royal palace of Hoa Lu Kings had good taste to choose the site of their capital
The Temple of Le Dai Hanh.
The Caves of Tam Coc: Boat trip and the crossing of three caves. A tiny village whose residents are organizing the cooperative walk on the river, water landscape punctuated by huge rolls of sugar falling steeply into the River. Visit the Cave of Jade with a few small pagodas. Access via a staircase carved on the occasion of the visit of Emperor Minh Mang in (1821)
Overnight in Ninh Binh
(Breakfast, Lunch, Dinner)
DAY 11: NINH BINH - HA LONG
Have breakfast at hotel, tranfer to Ha Long Bay
Cruise on Ha Long Bay: on board a junk built entirely of wood, you will spend a memorable cruise. Enjoy a delicious seafood lunch on board and spend your day enjoying the natural wonders of Vietnam. Visit islands, caves, If your heart tells you, you can take a dip in the waters of the Gulf of Tonkin jade.
Overnight in Cruise on Ha Long Bay
(Breakfast, Lunch, Dinner)
DAY 12: HA LONG - HA NOI - SAPA
Before breakfast, you will have to opportunity to see the sunrise over the bay.
After, continue crusing to Bai Tho Mountain.
Return to Ha Noi, after dinner, transfer to Ha Noi railway station for the overnight train to Lao Cai
(Breakfast, Lunch, Dinner)
Arrival Lao Cai, have breakfast at restaurant, after transfer to Sa Pa by Bus about 45 mn.
After arrive Lao Cai , you will visit the featured market through the villages. There will be one featured markets in everyday: Ban Phiet market on Monday, Coc Ly market on Tuesday,Cao Son market on Wednesday,Lung Khau Nhin market on Thursday, Chau market on Friday, Can Cau and Pha Long market on Saturday, Bac Ha market on Sunday . Free go shopping, then visit the villages outside the market.
Overnight in Sapa
(Breakfast, Lunch, Dinner)
Have breakfast, then visits:
Ham Rong Mountain looks very much like the dragon's head in the clouds. A climb to the peak is an excitement for all visitors. Visitors start to walk on stone steps, a winding trail higher up will help to see small streams lazily run through bushy foliages. About mid­way, visitors, taken by surprise, will be in orchid -gardens, more than 400 species are in colourful blooms. Then, visitors come to a mini plain of all flower (cam tu cau, trang phao, lay an and do quyen...)
Lao Chai Village: Here you will enjoy the fresh air, see terrace fields, stream, visit and discover some of the H'mong's families, three large villages with over 100 families of the Black H'mong ethnic, and people here are quite hospitable. In this village which you will have a welcome feeling at any house of the hospitable people there. You can interact them, learn about their culture and customs.
Ta Van Village: where you have opportunites to discover the specific cultures of each ethnic group.
Overnight in Sapa
(Breakfast, Lunch, Dinner)
DAY 15: SA PA - LAO CAI - HA NOI
Have breakfast, then visits:
Cat Cat Village: Visitors to Cat Cat have an opportunity to admire a lively and colorful picture. That is the image of young women sitting by looms with colorful pieces of brocade decorated with designs of flowers and birds. When these pieces of brocade are finished, they are dyed and embroidered with beautiful designs.
Take the way back to Lao Cai, on the road visiting Ta Phin Village , coming to Ta Phin, you will immediately catch sight of groups of Red Dao's women gathering together, keeping inside their hands colorful reels of thread and cloths. They sew continuously, even when offering the goods to the customers. Amazingly, most of them can speak quite well, some use Vietnamese less than English.
Arrivel Lao Cai and then transfer to Ha Noi railway station for the overnight train to Ha Noi.
(Breakfast, Lunch, Dinner)
Ngoc Son Temple: located north of Lake of the restored sword, Jade Mountain temple dedicated to King Tan Hung Dao winner of the Mongols in the 8th century. Adorable small temple that is reached by a romantic wooden bridge enlightened at night.
Lake of the restored sword with the legend of the Turtle Lake offers a peaceful and pleasant stop and an opportunity for a walk at the end of the day. This is the heart of the colonial Hanoi. All of Lake: of the flamboyant. In the Middle, the islet of turtle with a square shape stupa.
The temple of literature: a few blocks south of the mausoleum of Ho Chi Minh City, in front of the Museum of fine arts, Van Mieu Quoc Tu Giam was the first University in the Viet Nam. Dedicated to Confucius, this temple was built in 1070 and renovated by Nguyên at beginning of the 19th century. Enclosure 350 m x 70 m is divided into 5 courses.
Cyclo shoot walk:walk about 1 hour in the old quarter.
The old quater of the 36 streets and the market: historic area, candidate for UNESCO World Heritage list. Formed from the 15th century, is a set of streets in urban contrasts with the avenues of the city. Every street took a professional specialty representing a single business or corporation, often as an entire village
Water Puppet show: spectacle of great beauty for an hour and a half, accompanied by classical and folk music instruments. There are scenes of daily life of Vietnamese peasants. This show original, typical Vietnamese culture will enchant young and grands….
Overnight in Ha Noi
(Breakfast, Lunch, Dinner)
Arrival Ha Noi., have breakfast at restaurant local, anh then visits:
Free time for relax and visits.
After transfer to the Noi Bai Airport for the flight to return.
(Breakfast, Lunch)
Related Products